Let's Make John Stamos a Grandfather! Who Should John Stamos Settle Down With?
In an interview with Entertainment Weekly promoting his new comedy Grandfathered, John Stamos admits that he is ready to settle down:
Does this mean John Stamos is ready for babies?
I want to have a wife first. But I'm thinking really seriously about that situation right now. I think I really should be a dad at some point. I've gotta do something about this soon!
Thank you EW, for asking the important questions.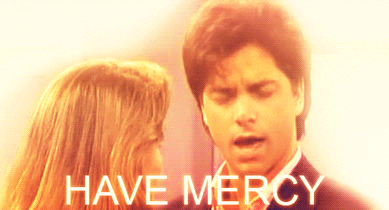 Every woman in America, right now.
But now we at Happy Nice Time People have our own important question to pose: Who should be the next Mrs. John Stamos?
John Stamos can't just marry anyone, okay? He needs to be with someone who can ensure that perfect hair, those smoldering eyes, and that bright smile will be passed down from this generation to the next.
Luckily for Mr. Stamos, I have scoured the universe for the top five candidates who are worthy of being his wife and the mother of his children so he doesn't have to put himself through the torture of dating an endless parade of model/actresses. Just read my list Mr. Stamos, and I guarantee you'll live happily ever after.
5. Jamie Lee Curtis
Yeah, she's married already, but do you really think Jamie Lee Curtis wouldn't dump her spouse for a chance with the Greek god known as John Stamos? They have so much in common: they're both actors with long running careers, they're both involved in charity work, and they both appreciate the bacterial fermentation of milk, a.k.a. yogurt.
Although John tends to emphasize deliciousness while Jamie Lee is more focused on pooping.
The only problem in their hypothetical marriage (besides conflicting product placement deals) is that Jamie Lee Curtis already has two grown children and may not be interested in changing someone else's diapers when she herself is approaching the age when someone will need to change her diapers. No fear, John Stamos! There's plenty of other strawberries in the yogurt.
4. Nia Vardalos
John Stamos has always been proud of his Greek heritage, even going so far as to request that his character on Full House have a Greek last name also. Similarly, Nia Vardalos is proud of her Greek heritage and even made a career writing film after film about her Greek-ness. These kids are a perfect match for each other! As she said in the first My Big Fat Greek Wedding, "Greeks marry Greeks to breed more Greeks, to be loud breeding Greek eaters."
John Stamos probably won't be producing any loud eaters, though.
The two wrapped up filming My Big Fat Greek Wedding 2 over the summer so I'm sure they had plenty of time to chat, get to know each other, and determine whether or not they want to spend the rest of their lives together. Sure, Nia Vardalos is already happily married to the man who ended up inspiring her first feature hit, but imagine how many hits she can write when she's married to the sexiest man alive.
3. Paula Abdul
The pair dated briefly in the '90s, and now that he's making his TV comeback, perhaps he can help Paula launch a music career again. He does have a background in music, and she allegedly wrote her hit single "Cold-hearted Snake" about him when the two broke up. When the two get back together and have a million kids, they can be an unstoppable pop superstar couple! They will have conquered both music and television together.
Although with her experience, maybe they shouldn't combine the two.
The pair looked friendly in the Throwback Thursday photo that Paula Abdul posted, and maybe more reminiscing about the past will convince the two to give it another shot. After all, as Paula well knows, opposites attract.
2. Lori Loughlin
John Stamos once famously described his Full House co-star as "the one that got away" and for good reason: Lori Loughlin and John Stamos paired so perfectly well on screen that people genuinely hoped that the two could be a real life couple. Now that John Stamos is single and ready to mingle, perhaps Uncle Jesse can marry Becky again and live out happily ever just like on TV.
Although hopefully with less cramped living conditions.
The only obstacle is that Lori Loughlin is already happily married, but if you can get me a comb, a horse, a laugh track, and Dave Coulier, then I can get Aunt Becky and Uncle Jesse back together again.
1. ME!
Yes, me. Why not? I'm young, fertile, and perfectly willing to give up everything to move to L.A. and dedicate myself to supporting John Stamos' career just like any supportive spouse would. And if he wants to lavish upon me expensive gifts and free Greek yogurt, who am I to stop him? It's a sacrifice I am willing to make.
I'm such a saint sometimes.
Plus, I put in all this work in trying to find love and happiness for John Stamos. Doesn't that mean that, in the end, I am the one for him? Okay, I see all those Uncle Jesse/Aunt Becky shippers in the distance, and they're carrying pitchforks so we'll end the list here.
What do you think? Can you play a better matchmaker for John Stamos?
When you support Happy Nice Time People on Patreon, 100% of your pledge goes straight to our writers, because they can't all marry John Stamos.