How "Sesame Street" will change HBO forever
(singing) Won't you tell me how to get… How to get HBO so I can watch Sesame Street?
The evil capitalist pig dogs at HBO have snagged the iconic children's show away from the federally funded communists over at PBS. Wasn't the whole reason we elected President Obama over Mitt Romney to protect Big Bird?
Sesame Workshop, the nonprofit group behind the iconic children's television program that has been airing on PBS since 1969, has announced the next five seasons of Sesame Street will air first on HBO and its streaming service HBO Now, starting this fall.
If you are too poor to afford cable but still want to know how to count to ten, don't you worry. PBS will air HBO's hand-me-downs nine months later. Netflix and Hulu, however, have been cut out entirely.
The HBO version of Sesame Street will only be a half hour, although they'll produce almost twice as many episodes per season as before, so it mostly equals out. Plus, there are rumors of spin-off series or two already being planned.
What else is changing? In addition to incorporating more sex and violence onto Sesame Street, HBO will integrate the Muppet characters into its already existing shows. We at HTNP got the scoop on upcoming plotlines in TOTALLY legal ways please do not sue us HBO.
1. Abby Cadabby on Girls
Abby Cadabby moves away from where the air is sweet to where the air smells vaguely of New Jersey. She quickly bonds with Brooklyn-ites Hannah, Shoshanna, Marnie, and Jessa as they all navigate through life, one mistake at a time. Although Abby's mistakes are usually spelling errors, not toxic relationships or self-sabotaging job interviews.
There is magic in Brooklyn beyond rent-controlled apartments
Despite being three years old, Abby quickly realizes she is more emotionally mature than the gang and attempts to have her old friend Sonia Sotomayor explain to the girls that they need to get real careers.
Unfortunately, Hannah and the gang would much rather wallow in their Millennial angst so Abby Cadabby quickly moves back to Sesame Street.
2. Bert and Ernie on Looking
Looking has not been renewed for a third season; instead a one-time special will air to give closure on Patrick, Dom, and Augustín. And what can make a special more special than inviting some very special guests from the other coast?
Bert and Ernie visit San Francisco on vacation and give Patrick advice on how to handle his romantic woes. After all, Bert and Ernie have been "roommates" for the past forty years so they can definitely offer good counsel.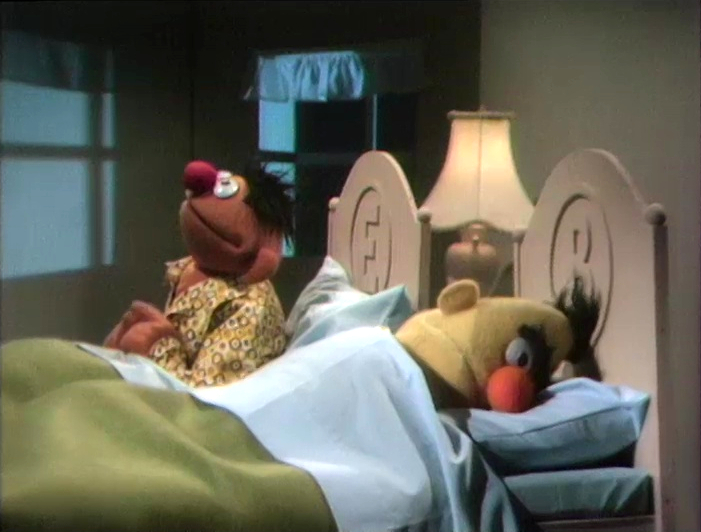 Like the importance of never going to bed angry.
Patrick also helps Bert and Ernie finally admit their true feelings towards one another and the special ends with their wedding. #LoveWins
Bert and Ernie return to Sesame Street as husbands with plans to open a bed and breakfast in Vermont.
3. Count von Count on Game of Thrones
There's a new player in the seven (seven, vah-ah-ah!) kingdoms of Westeros. Sesame Street's lone nobleman will briefly seize the Iron Throne. While not a particularly vengeful mastermind or a courageous warrior, the Count is good with numbers.
What, you don't believe me?
Through his shrewd accounting skills and control over bats, Count von Count quickly becomes a prominent threat to the Lannisters and Starks. He teams up with Daenerys after they bond over their love of animals and thick eyebrows.
George R.R. Martin is reportedly not pleased with the new direction the season is taking. Apparently, he was planning to write in Oscar the Grouch as Jon Snow's long lost son. They have the same hair, after all.
4. Elmo on Veep
After another political gaffe that portrays her as an insensitive child-hating monster who hates education, how could Selina Meyer turn the tables faster than hiring a sensitive child monster who loves learning like Elmo? Elmo's adorable nature quickly captures the press's hearts, much to Selina's annoyance.
Soon, the party wants to ditch Selina for Elma in the next election, which he wins hands down. We even have a clip:
The fifth season of Veep will involve Selina subtly and not so subtly trying to sabotage Elmo's first term.
5. Cookie Monster on True Detective
Since True Detective's renewal is still technically up in the air, the only thing we have been able to torture get out of our source at HBO is that the series hopes to have Cookie Monster join the cast as a hard-boiled detective battling an addiction. Type-casting, clearly.
The series acknowledges that it will be hard to accommodate Cookie Monster. He quickly gets bored during shooting and whenever they bring cookies on set, he immediately goes a destructive rampage. Darned method actors.
"Buddy, you don't know the half of it."
Rumor has it Sesame Workshop is desperate for Cookie Monster to give them their first shot at an Emmy in a Drama category.  Cookie Monster will be just content with a good snickerdoodle.