Caitlyn Jenner Defends Marriage Discrimination… Ellen DeGeneres and World: "Say What?"
I Am Cait star and former Kardashian Kult member Caitlyn Jenner appeared on the season premiere of The Ellen DeGeneres Show, where she discussed her Republican affiliation and evolving views on same-sex marriage with host Ellen DeGeneres.
Jenner admitted that she previously was not for same-sex marriage. "I'm a traditionalist," she said. "I kinda like tradition, it's always been a man and a woman. I don't quite get it."
"I'm sorry," replied Ellen DeGeneres. "I seem to be experiencing some short term memory loss–like my character Dory from Finding Nemo and Finding Dory, which will be out next summer by the way, so get ready to hand me and Disney all your money–but did you just say that you, a transgender woman who has struggled to have your identity accepted and validated your whole life, believed that marriage could only be between a man and a woman and couldn't understand why gay people would want to have their unions recognized as well?"
DeGeneres played the puppy dog–er, fishy–eyes.
Jenner quickly backpedaled. "I, like a lot of people on this issue, have changed your thinking here to 'I don't want to stand in front of anybody's happiness'…If that word 'marriage' is really that important to you, I can go with it," she said.
"Just like you got on board with your former step-daughter's 72-day marriage?" asked DeGeneres.
"Oh, think about the money we just made. Shame gay people can't get in on this type of publicity stunt."
The conversation then shifted to more lighthearted topics, but DeGeneres must have still been reeling because she discussed the exchange with Jenner on Howard Stern's radio show Tuesday. "You want people to understand and accept you but still have a judgment on gay marriage?" DeGeneres vented. "I also want everyone to be happy and I want her to be happy and I want her to want that for me."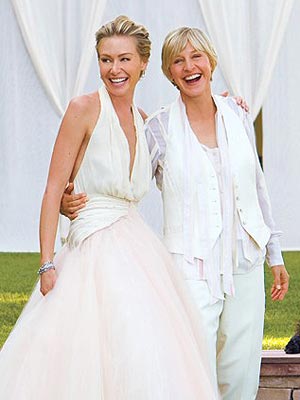 How could you not root for these faces to be happy?
"I don't really understand it," continued DeGeneres. "She's Republican and conservative, and I think that a lot of Republicans are wishing that she wasn't Republican, you know?"
Caitlyn Jenner has yet to comment on the irony. "I'm sorry, I've been living with the Kardashians for the past twenty years. I forgot what the word 'irony' means," she said when we last reached her for a statement. "Do you mean 'flat iron'?"
See the clip from the Ellen DeGeneres show below.
https://www.youtube.com/watch?v=pfXj1oj2AWE